Fluffland, a fantasy life simulation and visual novel hybrid crowdfunding campain on Kickstarter.
---
Introduction
The story is focused on a human who's teleported to an alternative world, Fluffland, a magic place with beings called fluffs.
It's a carefree game about exploration and friendship, and there are unlockable features as you progress with the story.
The life simulation part allows you to join daily activities and small random events. You can interact with fluffs and raise your friendship points with them.
The gameplay is not limited to story like normal visual novels. In Fluffland you can enjoy unlockable side chapters and periodic events even after you've completed the main story.

Try the DEMO online for free
---
---
Game details
Developer: Fluffness
Estimated release ear: 2021
Platforms: PC (windows e mac) and online on CloudNovel (the online version can be played from mobile and Nintendo Switch
Language: inglese
Genre: fantasy, daily life, simulation game, visual novel, adventure
Format: digital (until stretch goal is reached)
PEGI: PG-13

Contacts:
Twitter
Facebook
Discord
---
---
Features
☆9 main characters
☆20+ side characters
☆3 adoptable fluffs (pet system)
☆20+ backgrounds
☆2 sets of GUI
☆5+ OST
☆6+ CGs
☆15+ main chapters
☆Various side chapters
☆Periodic events like Christmas event, Halloween events, etc (through updates)
☆Life simulation (work, school, shopping, gacha, gardening, battle, etc)
---
World building
Fluffland is an utopian world, a pleasant and carefree place.
It's divided in 2 main areas:
☆Fluffland mainland, a huge floating island, with a dream-like atmosphere;
☆Cemetery is a Japanese-styled hidden city, built under the Mainland. It's a lively place with night parties and arena duels.
---
The team
Fluffland was started as a personal project by Fluffness in 2018. Later, collaborators from other games joined the team and gave important contributes to its developement.
Currently, our team is formed by 5 talented people from all around the worldo:
Monoyagi: artist, character designer, graphic designer
CthulhuSeeker: composer
Lenore: editor
DAX: graphic designer for Kickstarter presentation and general support
Fluffness: developer, writer, artist, character designer
---
Other games by the team
Red Grimly Tale – shounen ai visual novel based on Red Ridding Hood and other fairytale characters. Directed by Monoyagi.
The Red Wood – visual novel with battle elements. Sequel of Red Grimly Tale.
Helen's Doll House – doll collecting game with visual novel elements. Directed by Monoyagi.
Dark Lords Don't Give a 🙂 – card battle game. A parody by The Wrecking Crew.
CloudNovel Breakdown!! – parody visual novel by The Wrecking Crew.


---
---


Character profiles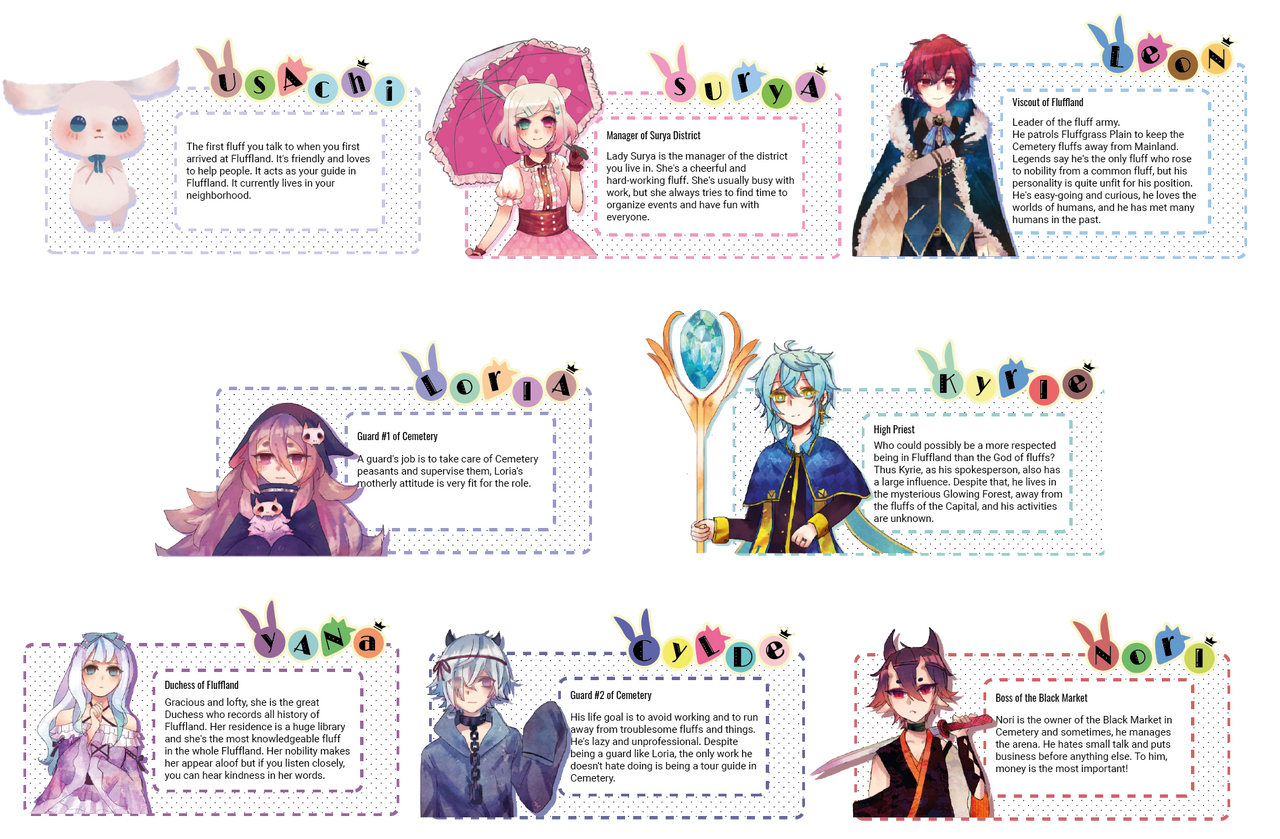 Graphics by DAX


Kickstarter rewards


Logo


Other screenshots


Merchandise art